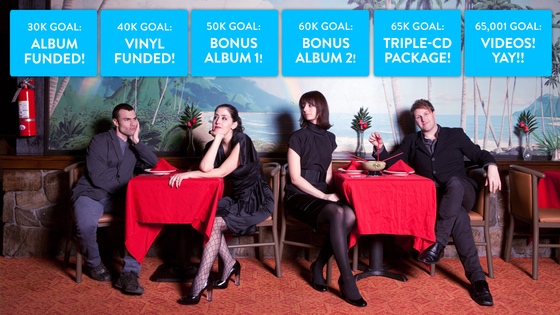 Freezepop's New Album!
Created by Freezepop
We're finally making our fifth full-length album, and we need your help to give it a proper release!
Latest Updates from Our Project:
An update from Seany D:
almost 2 years ago – Fri, May 31, 2019 at 01:42:05 AM
Closing in...
about 2 years ago – Tue, May 07, 2019 at 11:46:30 PM
We are getting there! Over the next couple of weeks, Seany and Danny Gold are bouncing out stems and we're working on some final vocal production (and when I say "we," I mean we're enlisting the assistance of our friend Matt Girard, who is much better + faster at it than we are). 
We had a band meeting last night where we came to a pretty solid consensus on the final track listing for the main album. We'd been kinda nervous about people having different choices and then having to like armwrestle over it or something, but we were basically 90% in agreement. I think having the bonus discs also helps take off the pressure there, so even if a song doesn't quite fit on the main album, it's not being lost forever.
And the album artwork... I made a thing I'm happy with, and almost finished with that part, BUT I want to go back and hand-draw it now, because it was looking a little too perfect. (And not just because I needed an excuse to go to Michael's for some new markers.)
If you're following us on Instagram, you may have seen that we scheduled a New York show in July! (If you're not following us on Instagram, you should! @freezepopband) We're working on adding at least 1 or 2 more dates to that as well...
How about an update!
about 2 years ago – Sun, Apr 07, 2019 at 01:15:18 AM
Hi y'all! Just popping in a for a quick update. Making some more progress, and this week we played a teeny show where we tested out a LOT of new material (it helps Sean iron out a lot of production stuff, and plus it's really fun to play stuff that's new). It went well, and plus I actually remembered most of the lyrics, ha ha. If you wanna get a sneak preview, here's a video (but disclaimer, it's iPhone/pretty bad sound + lighting):
https://www.facebook.com/freezepopband/videos/633565660389098/
Other than that, I've also been making a lot of progress on the album art, after 200 false starts, so that's fun! I wanted to do something illustrated this time. Going for sort of a late 60s/early 70s meets art deco meets the 80s kind of vibe. Wanna see some of my inspiration?
https://pin.it/wq3dau2kztsvsc
That's it for now, more soon. I'm doing what is hopefully going to be the last vocal session for the main album this week!
-Liz E.
Back in the saddle!
about 2 years ago – Sun, Mar 10, 2019 at 12:26:48 AM
So after an extended break due to me being sick, and then Danny Gold (our vocal engineer) being unavailable due to even more illness, we finally were able to knock out some more vocals this week! Much excitement! 
(Also, the cover art is coming along, and we're starting to make some vague future show-plans too...)
(This one is probably going on the bonus disc. I should also point out that Entertainer's Secret, the stuff Danny sprayed me with for comedic effect is actually quite magical and literally did save the day at one of our shows when i'd lost my voice. It does taste very unpleasant though.)
The latest...
about 2 years ago – Thu, Feb 07, 2019 at 12:53:53 AM
Hi all, and welcome to our February update!
I'll start with the bad news: we were on a roll with recording the final vocals there for a while, but pretty much ever since New Years, I've had a cold that would turn into a sore throat and linger for several weeks until I caught another cold and it all started over. So vocals just have not been an option. (We tried 1 session, but it did not go so well.) I'm on cold #3, and honestly, I'm kinda over it.
Some bad/good news: so around New Year, I was very unexpectedly laid off from my day job. This was actually pretty OK, as I was wanting to move on anyway, and now I have a little more time to devote to working on our album cover (in between looking for a new real job of course, if anybody in Boston or LA needs a Senior Product/UI/UX Designer, hit me up!). And Christmas and I started working on the new Freezepop.com redesign too!
Better news: we filmed a lil' video! Not like a big fancy "official" one or anything, more of a fun sneak preview kinda thing, DIY'ed with some help from our pals. So that'll be coming along soon-ish. Some BTS pix:
OK, until next time, hopefully with some more vocals accomplished...
-Liz E.