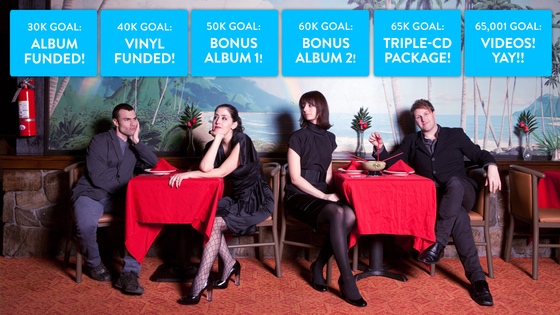 Freezepop's New Album!
Created by Freezepop
We're finally making our fifth full-length album, and we need your help to give it a proper release!
Latest Updates from Our Project:
hi there.
almost 6 years ago – Mon, Sep 26, 2016 at 10:17:36 PM
A preview!
almost 6 years ago – Thu, Sep 22, 2016 at 01:12:37 AM
Lots of instrumentals. Not as many lyrics. Working on sorting that out... anyway, a sneak peek for you:
An update from Seany D
almost 6 years ago – Mon, Sep 05, 2016 at 08:37:13 PM
Hey, gang. Sean here. Checking in. Some potentially bad news, although hopefully not too bad. We're behind schedule. We have a *ton* of music, and we're looking to get vocals started within a couple weeks, but for some personal reasons (and temperature in our studio reasons), we aren't quite where we wanted to be at this point. I apologize. It's possible we'll still make the dates. It's also possible we won't. We have no plans on sending out an album (albums) we're not totally happy with. We've been struggling not to let the deadlines slip but they have a little, so I wanted to be as up front about it as possible, as soon as possible. Fingers crossed? We're really happy with everything so far, so, you know, hang tight et cetera, but we may be coming in a little later than expected. Or maybe you already expected that. I don't know. WISH US LUCK. I love you all. Cheers.
OK!
almost 6 years ago – Mon, Jul 11, 2016 at 10:20:21 PM
Backer surveys have been sent, technical glitches have been corrected, downloads sent out... now it's time to get back to actually *making the music*!
Oh hey, some updates!
almost 6 years ago – Thu, Jul 07, 2016 at 08:46:11 PM
Sorry it's been a lil' while. I figured you might have Kickstarter-fatigue (I mean, we were pretty sick of ourselves). Anyway, just a lil heads-up, I'm going to be sending out the BackerKit surveys Very Soon. That's where you do stuff like provide us with your shipping address, choose what size T-shirt you want, and deal with any add-ons or upgrades. It's all update-able too, in case you move or change shirt sizes before we ship things early next year. You can also choose add-ons or change your reward tier, if you missed your chance while our campaign was live. And a bunch of you will be getting some downloads for "Human Money" and "Stretch Goal Lover" too!
Album updates: Sean had some technical difficulties. Broken gear got repaired and returned to us broken in different ways :-/ 
But... things seem to have been worked out though, knock on wood. No sneak peeks yet, but we're on it. Stay tuned...