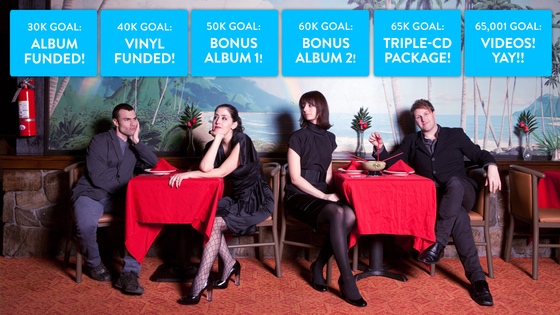 Freezepop's New Album!
Created by Freezepop
We're finally making our fifth full-length album, and we need your help to give it a proper release!
Latest Updates from Our Project:
Sean's heartfelt plea
almost 5 years ago – Thu, May 26, 2016 at 12:35:00 PM
Freezepop Kickstarter Countdown and Christmas Special Live Spectacular!
almost 5 years ago – Thu, May 26, 2016 at 07:13:35 AM
Our Kickstarter is ending Thursday night, and we'll be doing a Facebook Live broadcast to count down and celebrate! Join us at Facebook.com/freezepopband at 9:30 EST on Thursday!
Limited edition triple-CD release unlocked!
almost 5 years ago – Mon, May 23, 2016 at 04:26:17 PM
Amazing, you guys. We'll be putting out the album + the 2 bonus albums as a signed/numbered limited edition triple-CD package! 
I have added some new reward tiers, and I've also made a little guide for our add-ons and upgrades (sorry, the Kickstarter interface is a little convoluted when it comes to a-la-carte stuff, but it's not that difficult to do, I promise)
As far as new stretch goals, we're not setting specific milestones, but any money we get beyond this point is going towards making video(s)!
We hit the collaboration/remix bonus album stretch goal!
almost 5 years ago – Thu, May 19, 2016 at 12:15:13 AM
Yay!! We hit our $60K stretch goal! This is majorly exciting, we'll be working with an amazing group of folks. Thanks to you all for getting us there! I've added a new reward tier for a download of all three albums, and the bonus album downloads will also be added to any reward tiers $30 and above.
Next up, we want to make a limited edition fancy-style triple CD package. So we've set a $65K stretch goal to make that happen! How about a new chart:
Good morning!
almost 5 years ago – Sat, May 14, 2016 at 03:35:24 PM
It is a beautiful day, and we are headed to soundcheck soon! Hope all of you within the general Boston vicinity can come see us at The Sinclair tonight! 
 (Disclaimer: Simon will not actually be at our show.)